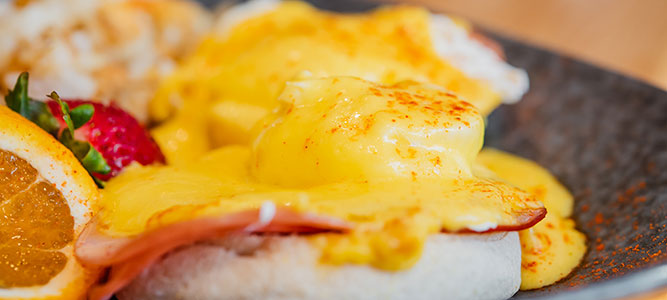 Meeker's Breakfast
Serving from 7am – 11am
*The Meeker's Classic, 2 farm fresh cage-free eggs cooked any style and your choice of ham, bacon, sausage, chicken sausage. Includes breakfast potatoes and choice of toast $10
*Steak and Eggs, Garlic and rosemary marinated hanger steak, 2 farm fresh eggs cooked any style, includes breakfast potatoes, grilled asparagus and choice of toast $18
Greek Yogurt Parfait, Sacred Vow Granola, local Greek yogurt, fresh berries, Berry Coulis $9
Cheddar Biscuit and Gravy, Meeker's Rosemary and Sausage Gravy smothers a flaky cheddar biscuit, topped with an egg your style and breakfast potatoes $10
*Ham Benedict, The classic, English muffin topped with shaved hickory smoked ham, perfectly poached cage-free eggs and smoked paprika hollandaise $12
*Veggie Benny, Heirloom tomato, spinach, scallions, asparagus, buttermilk biscuit and perfectly poached cage-free eggs and smoked paprika hollandaise $12
Pancakes – 3, Buttermilk, Blueberry, Chocolate Chip or Strawberry $10
Can't decide? Choose any 3 pancakes to create a Pancake Flight.
Gluten-Free? Ask about our Gluten-Free Friendly options.
*Consumption of raw or undercooked meats, poultry, seafood, or eggs may increase your risk of food-borne illness, especially if you have medical conditions.
How to Order Curbside To-Go
1) Order by phone 970-353-1883
2) Pay with credit card
3) Call when you arrive and we'll bring your order out to your car!