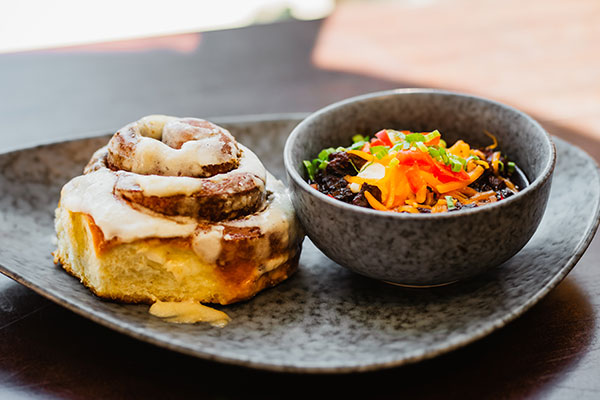 Family Style and Date Night
Beef Steak Chili and 6 Jumbo Cinnamon Rolls, enough for the entire family $39
*Steak Dinner for 2, (2) 8oz Hanger Steaks, House Salads, Garlic Mashed Potatoes, Grilled Asparagus, 2 Pies $32
*Family Steak & Chicken Tender Dinner for 4, (2) 8oz Hanger Steaks, Chicken Tenders for 2, House Salads, Garlic Mashed Potatoes, Grilled Asparagus, 4 Pies $49
*Family Steak Dinner for 4, (4) 8oz Hanger Steaks, House Salads, Garlic Mashed Potatoes, Grilled Asparagus, 4 Pies $59
*Burger Dinner for Two, (2) ½ lb Angus Burgers, Sea Salt and Rosemary Fries, 2 beers, 2 pies (available for pick-up only) $26
*Family Burger/ Chicken Strip Dinner, (2) ½ lb Angus Burgers, Chicken Tenders for 2, Sea Salt and Rosemary Fries, 4 pies $35
____
Add a fresh loaf of bread to any takeout order for $5
Add a bottle of wine for $10 to any meal.
Buy a family meal and get 50% off any bottle of wine (excluding house wines)
____
Soup, Salads, & Sides
Cream of Tomato and Basil Soup, Topped with Smoked Cheddar Grilled Cheese $7
Meeker's House Salad, Organic Greens, Strawberries, Candied Pecans, Haystack Goat Cheese, Apple Vin. $8
Classic Caesar, Romaine, Parmesan Crisp, Herbed Croutons and Caesar Dressing $8
Buffalo Blue Fries, Little Boy Blue Cheese, Buffalo Sauce, Ranch $7
Coconut Calamari, Pineapple Salsa, Sweet Chili Mayo $9
Sandwiches and Burgers
Reuben Sandwich, Marble Rye, Corned Beef, Sauerkraut, Swiss Emmental, 1000 island, Terra Chips $10
*Classic Club, Whole Wheat, Smoked Turkey, Applewood Bacon, Mayo, Lettuce, Tomato, Fried Egg, Terra Chips $10
*Grilled Boulder Chicken, Sourdough Roll, Peach BBQ, Heirloom Tomato, Lettuce, Sweet Potato Fries $10
Veggie Royal, Beyond Burger, Chili Mayo, Smoked Cheddar, Tomato, Romaine, Sourdough Roll, Sweet Potato Fries $10
*1/2lb. Angus Burger, Short rib-Chuck-Brisket Grind, Applewood Bacon, Heirloom Tomato, Romaine, Sourdough Roll, Sea Salt and Rosemary Fries $11
Large Plates
Beefsteak Chili and Jumbo Cinnamon Roll, Meeker's Award-Winning Chili and Cinnamon Roll Combo $12
Elk Green Chili, Smoked Cheddar, Crème Fraiche, Jalapeno Cheddar Corn Bread $12
Loaded Mac and Cheese, Applewood Smoked Bacon, Smoked Cheddar Sauce, Green Chili, and House Salad $11
*13oz Angus Ribeye Steak, Roasted Garlic Mash, Lemon Grilled Asparagus, $24
*8oz Hanger Steak, Denver Marinated, Truffle Fries, Charred Broccolini $22
*Wild Alaskan Cod, Ale Battered, minted peas, Sea Salted fries, Siracha Tartar $15
Homemade Pies $6
Cherry
Apple
Peach
Chocolate Cream
Blueberry
Strawberry
Lemon Tart
Served with vanilla ice cream
Cocktails, Wine, & Beer
Happy hour drinks ($4 drafts, $5 house wines, $5 well cocktails) available for curbside pickup
View all drink specials.
*Consumption of raw or undercooked meats, poultry, seafood, or eggs may increase your risk of food-borne illness, especially if you have medical conditions.
Order Curbside Pick-up
1) Order by phone 970-353-1883
2) Pay with credit card
3) Call when you arrive and we'll bring your order out to your car!